ONLINE GAMBLING IN ANGOLA : LAWS AND RULES
The government of Angola is on a massive drive to turn the country into a gaming and tourism destination that can compete with South Africa for international tourists. Such a goal may seem a bit ambitious for a country that is less than 15 years old from a brutal civil war that lasted nearly three decades but this is not the case. Angola is the continents second largest oil producer and there are massive diamond reserves in the country. These resources are being used to better the economy. Currently Angola is one of the fastest growing economies in the world. There has been unprecedented growth all areas of the economy including the gambling sector.
Gambling in Angola
Generally the Angolan population loves to gamble. Residents of the large country gamble on games such as bingo, slots and on table games such as poker and roulette. Also very popular in the country is sports betting. Games of fortune are becoming more and more popular as the citizens of Angola continue to get more disposable income. The promise of rewards and jackpot winnings is proving too much of a temptation to resist for most of the population. The Rise in demand for gambling services has been met by an equally large enthusiasm to supply such services. Both foreign and local gambling operators are constantly increasing their investments in the Angolan gambling industry. There has been a rise in online gambling in the country as well as an increase in land based casinos.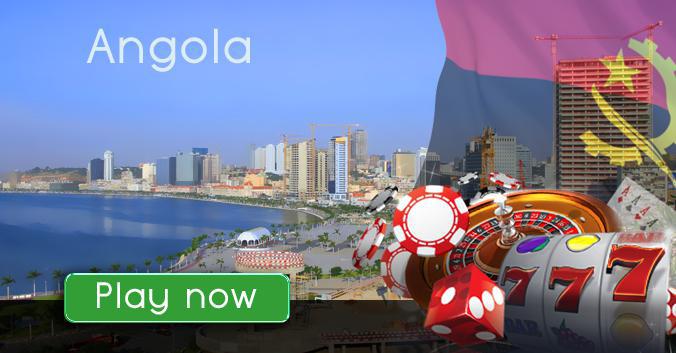 Currently there are more than 10 land based casinos operating in Angola, most of these are in the capital city Luanda. Gamblers can also access video slots, blackjack tables, poker rooms and other games of chance in Benguela, Lubango and Cabinda. Post-conflict there were only a couple of casinos operating in the country. Most of them were owned by foreign operators. The majority of sports betting establishments during this time were imported from Portugal and betting was primarily on Portuguese soccer leagues. There are stories of some of these foreign operators scamming individuals. A popular incident is one of a Brazilian gambling operator who withheld winnings from players. Incidents like this led to the government crafting a new law to safeguard the interests of its citizens. The new legislation provides for more vigorous screening of gambling licence applicants and tighter monitoring of gambling establishments.
Gambling Regulations in Angola
Angola recently passed a new law that regulates gambling activities in Angola. The new legislation regulates casinos, lotteries and online games. The Angolan public is not restricted from accessing online gambling service. Foreign based online gambling operators are also not prohibited from providing gambling services to Angola's citizens. Primarily the law focuses on protecting the gamblers. As Angola pushes to become an international gaming destination it became necessary to create legislation that would ensure gaming transparency.
The new legislation is also seeks to improve the casino operators social responsibilities. It provides for greater responsible gambling and anti money laundering supervision. There is a requirement for gambling operators to be more accountable. As part of the social responsibility drive government seeks to create employment using this bill. Angola stands to benefit from the increased revenue that will be collected from gambling operators and their establishments. The new law requires gaming licence applicants to pay an application fee and the profits from their operations will also be taxed. A special tax regime was created especially for the gambling operators.
According to the legislation gambling activity is exclusive to the government. The government reserves the right to authorise private and public entities to explore the area through concession. All gaming licensing will be processed by a single entity. The board is also responsible for supervising, inspecting and monitoring gambling activities.
Online Gambling Boom in Angola
The Major reason for the boom in the online gambling industry is high Internet penetration rate. Less than 15 years after the country got back on its feet from a devastating civil war more than 20 % of the population now has internet access. The percentage may look low on its own but once you factor in the country's population the figures become huge. There are more than 4.4 million Internet users in the country and the number is increasing daily. This figure is higher than most countries that surround Angola. There are established hotels and casinos based in Angola. These include Casino Tivoli and Marinha Casino
Angolans love to gamble and it is not surprising that most have grabbed the opportunity to gamble online. Despite the rapid growth of the gambling industry there is still a lot of space that remains to be covered. Brick and Mortar casinos are still only found in major towns. Online casinos offer casino services without gamblers having to travel long distances. New games that are rapidly becoming popular in Angola like Bingo and Poker are not as extensively available in the country as they are online.
Angolans can also play and win foreign Lotteries without leaving the country. Even sports betting facilities are better online than they are in brick and mortar betting establishments. As the number of people accessing the Internet via their phones and tablets increase there is going to be an even larger number of online gamblers in Angola. The convenience of gambling on the go is something that gamblers in the country would enjoy.
Why Yebo Casino is the Best Online Casino in Angola
Yebo online casino has all the favourite casino games, online blackjack, online roulette, online baccarat, online Craps and hundreds of video slots. Besides the usual casino games players can try win the jackpot in the very popular Keno game. The Yebo casino is available on both the download version and on instant play. The download version has a massive portfolio of games to select from. The instant play version is a lighter version of the casino. The instant casino is great for playing on mobile devices like phones and tablets. At Yebo Casino there is no need to own a PC to completely enjoy online gambling. Deposits, withdrawals and even registration can be done on a mobile device. Games at Yebo casino can be played in free mode or for reel money. This facility allows players to play practice rounds as they familiarise themselves with the gameplay before playing for real money. However players can only win the mega jackpots offered in the progressive games if they are playing for real money.
Depositing and withdrawing money here at Yebo casino is very easy and confidential. The transactions are protected from prying eyes by Secure Socket Layer encryption. There are several methods to transact; players can send an EFT, use debit or credit cards or popular e-Wallets such as Skrill. Transactions are in South African Rands, a currency that is accepted in most African countries. If all this does not demonstrate that Yebo Casino is the best online casino in Angola then the welcome bonus will. Yebo welcomes players with a huge R12,000.00 match bonus. Players can use this bonus to start their quest to win big on most of the games offered here at Yebo casino. The bonus is just a small token of appreciation with many more rewards and loyalty prizes in store once inside the casino lobby.