AN EXPLANATION OF PROGRESSIVE JACKPOTS
Progressive jackpots are one of the major attractions in casinos today. Whether at brick and mortar or online casinos they are among the most played games. The chance to win several thousand or even millions of Rands in jackpot prizes is too much to resist for many gamblers.
A Progressive Jackpot is a Jackpot that increases in value every time the game is played. A preset percentage of each wager is added to the jackpot. The exact percentage that advances to the jackpot is determined by the casino. A small percentage of the casino's profit is added to the progressive jackpot after each bet. Casinos do not have any problem with giving a reasonable piece of their profits to increase the progressive jackpot. This is because progressive jackpots are the stars of the casino. These games are very popular and often have a big and loyal fan base. Therefore these games generate a lot of income for the casinos justifying the sacrifice. Progressive jackpots managed to elevate slot machines from being a looked down upon type of casino games to being one of the most played type of game. This is both online and in land-based casinos.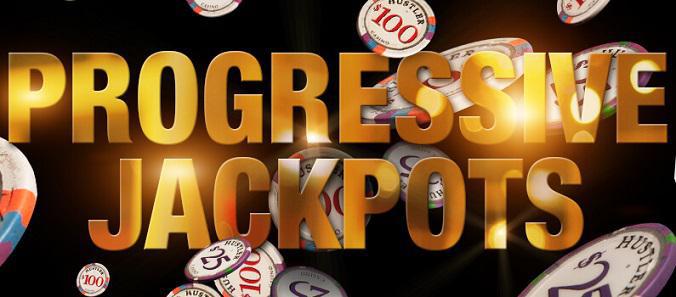 As previously mentioned Progressive Jackpots were more common in slots and video poker games. Many of the best online casinos now have online table games and other games like online bingo that are linked to progressive jackpots.
To win the progressive jackpot a player is required to get the highest paying combination in the game. This is after the player places a qualifying bet. In some games this involves placing the maximum bet while in other games it is a matter of placing a separate bet. Each time a progressive slot is won the jackpot prize resets to a preset amount of money. This money is usually higher than all the other prizes on offer in that particular game.
Types of Progressive Jackpots
Progressive Jackpots always have a meter that shows how much money can be won. When there are several machines in various locations linked to the jackpot the meter readings increase at a very fast pace. This kind of progressive jackpot is referred to as a Network Jackpot. Network Jackpots are the richest types of jackpots. The jackpot can rise to more than US$10million dollars. This is because some of the jackpots operate over a Wide Area Network connecting a multitude of casinos in several countries worldwide.
A jackpot that is confined to a particular location or games at a single casino is commonly referred to as a Local Jackpot. Due to the jackpots being limited to a particular casino the jackpot increases at a slower rate than Network Jackpots. The jackpot can be linked to a few couple of machines or even several hundreds of machines. This is dependent on the size of the casino and their floor strategy.
A standalone progressive jackpot is the type of the progressive jackpot that is restricted to a single machine. These are the slowest increasing jackpots as they jackpot is only feed into by one machine. They also tend to have lower jackpot pools. This is because the pool increases with each deposit into the machine. As there is only one machine being played the pool tends to be the smallest.
Games Which Have Progressive Jackpots
All of the best online casinos now have several types of games linked to progressive jackpots. Online casinos have more types of games which have progressive jackpots than land based casinos. In the best land based casinos you play bad beat progressive poker, progressive blackjack and progressive Caribbean stud poker. This is in addition to progressive slots and video poker progressive jackpot games.